DIAGRAM FOR THE PLACEMENT OF THE WIREON TRIM.
EACH CAR HAS A DIFFERENT WIDTH VALANCE.
WHEN THE DECK IS PROPERLY PULLED SIDE TO SIDE, STAPLE ON THE DECK SEAM DEAD CENTER OF THE BOW (X)
ONLY A FEW STAPLES ARE REQUIRED FROM SIDE TO SIDE TO KEEP THE BOUND EDGE LEVEL ACROSS
TO HOLD THE DECK IN POSITION.
MORE STAPLES CAN BE ADDED AFTER THE FRONT EDGE IS FASTENED, AND BEFORE THE WIRE-ON TRIM IS INSTALLED

THE VALANCE TRIM MUST BE SET ON THE REAR BOW BEFORE THE FRONT EDGE IS COMPLETELY SET.
SEE BAD WRINKLES BELOW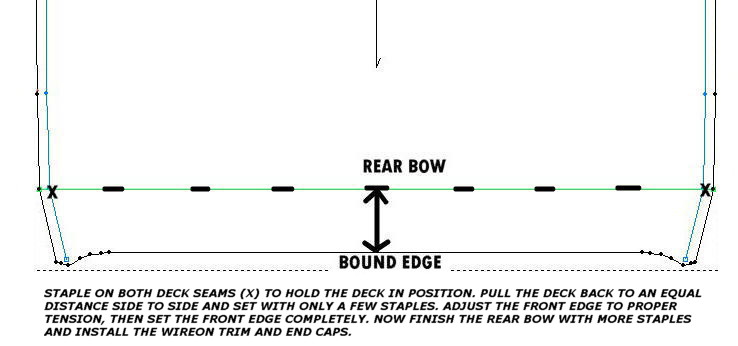 SEE EXAMPLES BELOW
---
1967-60 DART TOP AND GLASS IMPROPERLY INSTALLED BY CUSTOMER - NOT PROFESSIONAL INSTALLER
CUSTOMER WANTED A "CLEAN LOOK" AND DID NOT INSTALL THE WIRE-ON TRIM.
THE TOP WAS NOT STAPLED TO THE REAR BOW AT ALL - THE FRONT OF THE TOP WAS PULLED TOO FAR FORWARD, EXPOSING TOP EDGE OF GLASS.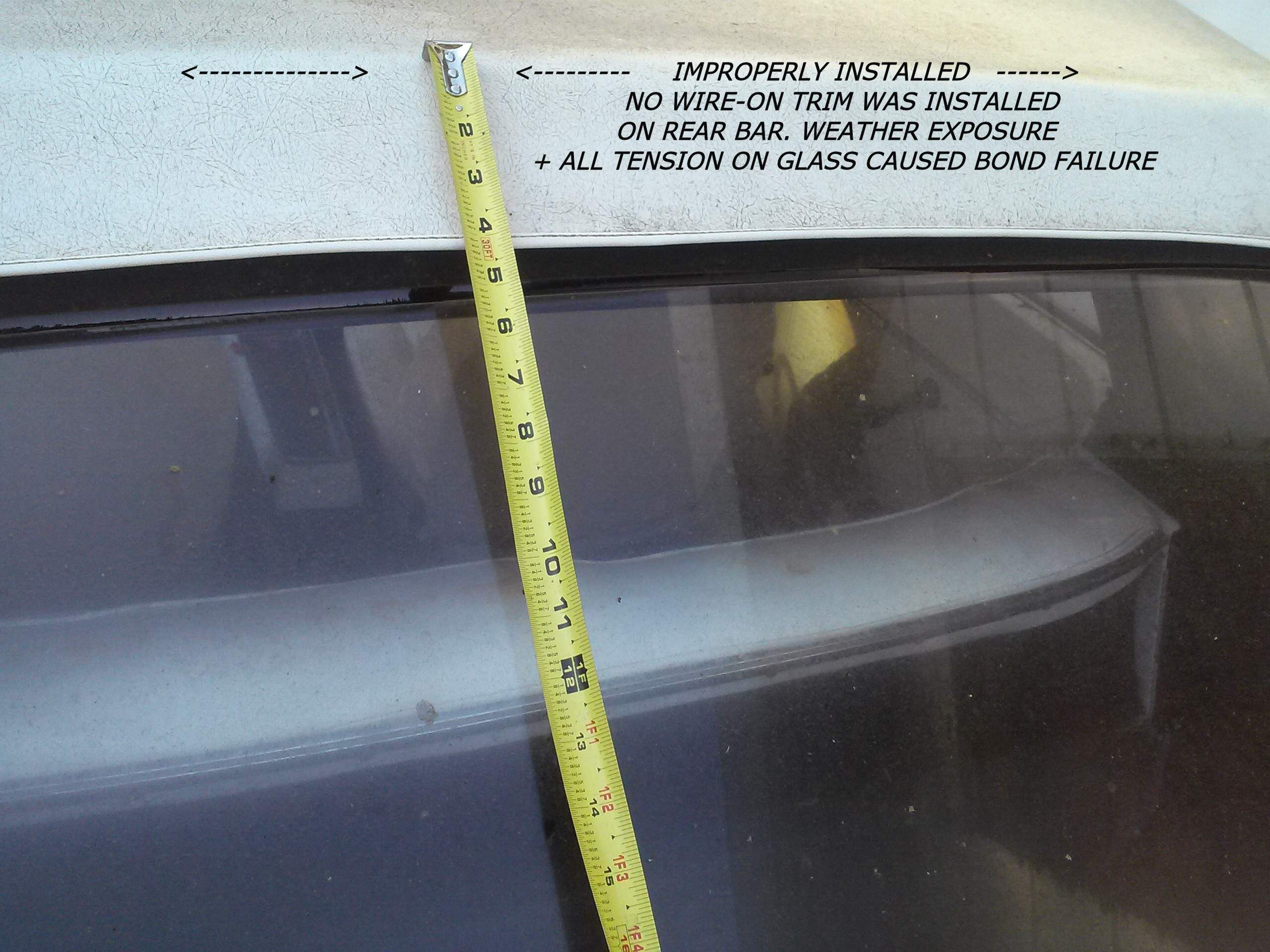 ---
1961-64 GM FULL SIZE WITH CUSTOM WINDOW.
TOP AND WINDOW IMPROPERLY INSTALLED BY "PROFESSIONAL" (?) INSTALLER
TOP WAS NOT STAPLED TO THE REAR BOW IN THE CORRECT POSITION - TOP WAS PULLED TOO FAR FORWARD , GIVING THE VALANCE TOO HIGH OF AN ARC IN THE REAR DEAD CENTER. THE REAR WINDOW WAS ALSO INSTALLED TOO TIGHT ON THE SIDES CAUSING THE WINDOW TO PULL AWAY FROM THE TOP AT THE SIDES.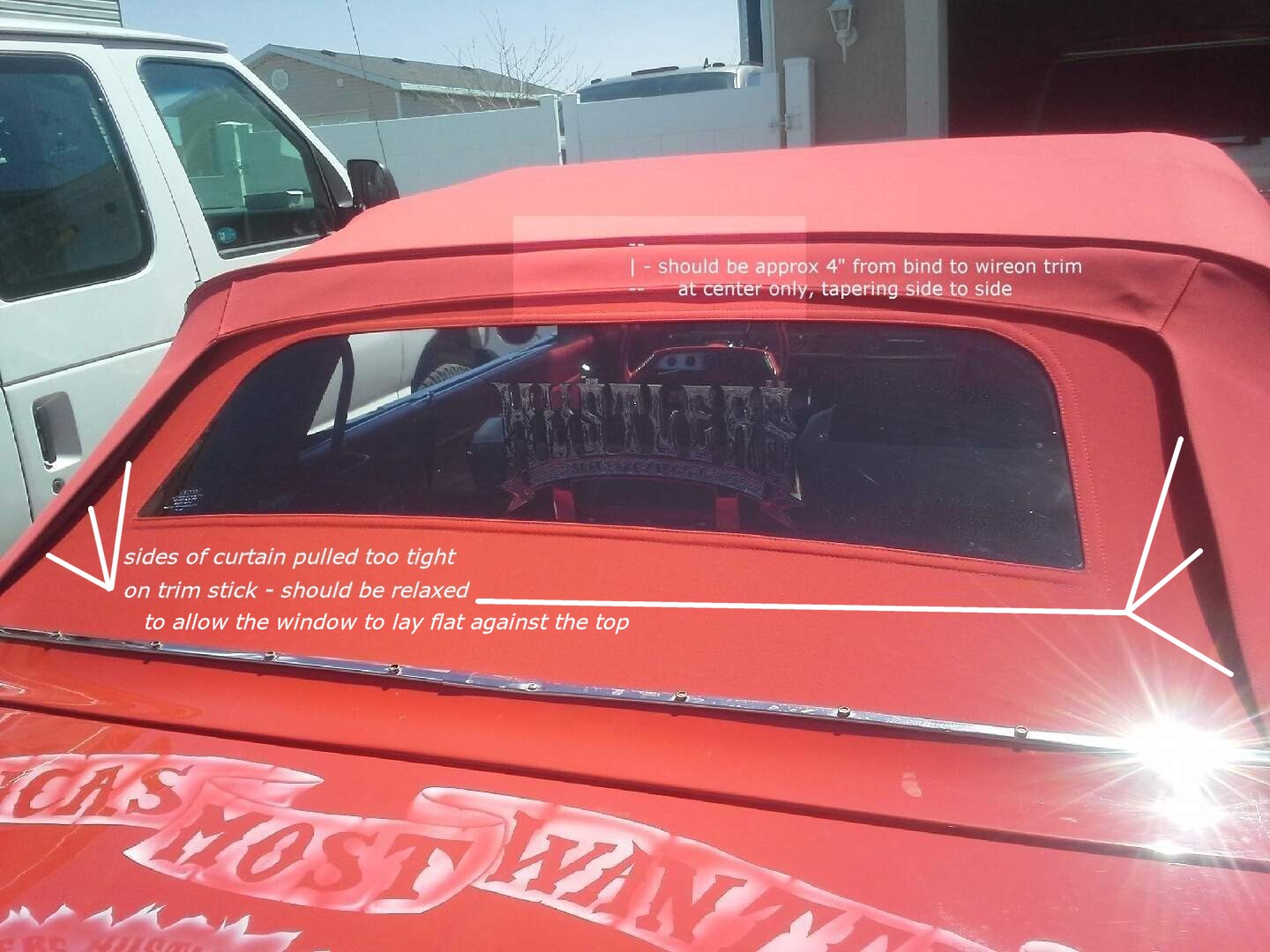 ---
ARO FACTORY OE pattern 344 + 347 © 1967- 70 "B" Body
DODGE Coronet, X-RT, RT / PLYMOUTH Belvedere, GTX, Roadrunner, Satellite
NOT PROFESSIONALLY INSTALLED
TOP WAS PULLED TOO FAR FORWARD (ALSO NOT SET EVENLY ON ONE SIDE) , CAUSING THESE WRINKLES BEFORE STAPLING THE TOP TO THE BOW. THE VALANCE SHOULD HAVE BEEN PULLED EVENLY INTO PLACE AND SET BY STAPLES PRIOR TO THE FRONT EDGE BEING FINISHED. THE REAR WINDOW WAS NOT INSTALLED PROPERLY - CAUSING WRINKLES ON THE ONE SIDE.
(VALANCE SHOULD HAVE BEEN SET AT APPROX 5" TO 5 1/4" DEAD CENTER, SLIGHT ARC TAPERING OFF TO SIDES)